Profiles in Professionalism With Nancy R. Kirsch
By Nancy R. Kirsch PT, DPT, PhD, FAPTA and Melissa McCune, SPT
This innovative new series featured in the Journal of Humanities in Rehabilitation seeks to explore the elusive yet crucial concept of professionalism and its role in the field of rehabilitation medicine. Providing insight through the words of visionary leaders, we seek to reflect on what it means to be a professional in the current healthcare environment, and how the past can help to inform the future of our growing field. Through captivating video interviews, the concept of professionalism is presented in a format that aims to speak to rehabilitation professionals across the spectrum of clinical care, research, and education.
Introduction
In this installment of the "Profiles in Professionalism" series, we sit down with Dr. Nancy R. Kirsch. Dr. Kirsch is recognized for her prolific scholarship in the field of rehabilitation and her expertise in biomedical ethics, healthcare administration, and physical therapy education and clinical practice. In this interview, Dr. Kirsch explores how the field of physical therapy has evolved, and the critical role the humanities play in developing caring and compassionate professionals. 
Biography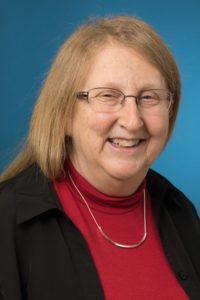 Nancy R. Kirsch, PT, DPT, PhD, FAPTA is currently the Vice Chairperson for Administration of the Rehabilitation and Movement Sciences Department and the Director of the Doctor of Physical Therapy Program at Rutgers, The State University of New Jersey. Additionally, Dr. Kirsch is a current member of the New Jersey Board of Physical Therapy Examiners and President of the Board of Directors of the Federation of State Boards of Physical Therapy. Dr. Kirsch's commitment and service to the American Physical Therapy Association (APTA) is extensive, with her holding appointments as President and Chief Delegate of APTA's New Jersey Chapter; as a member of APTA's Ethics and Judicial Committee, and its Reference Committee; and serving on multiple task forces for ethics and clinical education. In 2006, Dr. Kirsch was awarded the APTA Lucy Blair Service Award; in 2014, she became a Catherine Worthingham Fellow. In 2017, Dr. Kirsch was awarded the Distinguished Professional Award from the New Jersey Chapter of APTA. 
Dr. Kirsch writes a monthly column titled "Ethics in Action" for the APTA publication, PT in Motion, and has recently published the textbook, Ethics in Physical Therapy: A Case Based Approach. Her commitment to pushing the field of Physical Therapy forward and exploring the intimate connection between the humanities and clinical care serves as a beacon for all Physical Therapy professionals.  
How has the field of Physical Therapy evolved both from an educational and clinical care perspective?
Nancy Kirsch – JHR Interview – Part 1 from ECDS on Vimeo.
"I think we're at a point—a crossroads—in our professional development… [W]e really [need to] look at who do we want…interacting [with patients] and [to] have the privilege to be a healthcare provider?"
"I always tell our students, make sure that when you walk into a patient's room [to] look at the patient and interact with the patient…look around the room. Look at the family dynamic. Look at the pictures on the wall. That person in the bed is that person for a very short time compared to the person that you're going to see reflected around the room and within the dynamic of the family." 
When thinking about our role as professionals, what part does humility play?
Nancy Kirsch – JHR Interview – Part 2 from ECDS on Vimeo.
"I think that humility is really the basis of professionalism…you're granted a license to touch, to move into somebody else's space, and I think that takes a tremendous amount of looking at yourself and realizing that you're vulnerable." 
How did you become interested in the humanities?
Nancy Kirsch – JHR Interview – Part 3 from ECDS on Vimeo.
"There wasn't any rule that was superseded by the sanctity of the individual person's value, and so valuing a person and valuing what they could contribute was just part of the way I was raised."
How has your experience with the humanities helped shape how you practice clinical care?
Nancy Kirsch – JHR Interview – Part 4 from ECDS on Vimeo.
"Just being involved with people on every single level, there's humanity in almost everybody at some basic level, and it's a matter of being able to draw that out for the good of that person."
How might technology be affecting the way students and clinicians are communicating with their patients, and what is the value of using direct communication?
Nancy Kirsch – JHR Interview – Part 5 from ECDS on Vimeo.
"We're going to find out more about our patients from what they say to us… than any other type of way in which we can…disseminate information." 
Who is someone in your life who has helped shape the way you think about professionalism?
Nancy Kirsch – JHR Interview – Part 6 from ECDS on Vimeo.
"[M]y parents and my grandparents… I only actually knew one of my grandmothers…in particular. And she came to this country as an immigrant when she was about fourteen on her own. My parents wouldn't even let me take a bus by myself, but she came across steerage…not speaking the language at all, and she…taught herself English, and…raised a family. And throughout her entire life she took in people that needed a place to live…and needed, you know, [care] and love and never asked for anything from anybody, ever." 
---