Profiles in Professionalism: Interview with Laura Lee (Dolly) Swisher, PT, PhD, MDiv, FNAP, FAPTA
"Profiles in Professionalism", an innovative new series featured in the Journal of Humanities in Rehabilitation, seeks to explore the elusive yet crucial concept of professionalism and its role in the field of rehabilitation medicine. Providing insight through the words of visionary leaders, we seek to reflect on what it means to be a professional in the current healthcare environment and how the past can help to inform the future of our growing field. Through captivating video interviews, the concept of professionalism is presented in a format that aims to speak to rehabilitation professionals across the spectrum of clinical care, research, and education.
In this first installment of the "Profiles in Professionalism" series, we sit down with Laura Lee (Dolly) Swisher, PT, PhD, MDiv, FNAP, FAPTA, a powerful and thought-provoking leader in the field of Physical Therapy, to discuss her personal path to professionalism and the evolution the field of rehabilitation medicine has endured to grow in pursuit of a professional identity.
Biography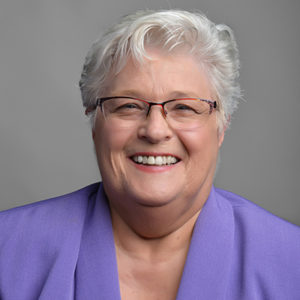 Laura Lee (Dolly) Swisher, PT, PhD, MDiv, FNAP, FAPTA is currently the Director of the School of Physical Therapy and Rehabilitation Sciences at the University of South Florida (USF), and the Associate Dean of the at USF's Morsani College of Medicine. Dr. Swisher's expertise lies at the intersection of ethics, professional education, and clinical care, helping to provide a framework for the development of our moral foundation as students and professionals.
What are the characteristics of a "true" profession?
"One of the things that I think [are] common… attributes that all professionals have to have … is extensive training, a commitment to maintaining currency, engaging in public service. But the other aspect that people often talk about [is] that a profession has to have some kind of autonomy"
What does it mean to be a professional?
"I think to be a professional is to be committed to not only the knowledge and excellence that goes into doing something well but also to be engaged in a commitment to society and above all to your patient. And those things have to stay with you."
"It also has to do with having the right values and attitudes and it has to do with putting those into action."
How can a profession continue to develop?
"We have an unspoken, unwritten contract to society that we're going to put the interests of the collective forward."
What is a current barrier to Physical Therapy practice?
"Can the individual professional continue to do their best for the patient in an environment when there is so much pressure to be efficient, productive, and lucrative?"
Who have been your professional role models and what did they teach you about being a professional?
"…my father was a powerful model for me as a professional. Now my father was a forklift truck operator, ex-farmer, and my mother was quite disabled from multiple sclerosis. And he essentially became a nurse for her and he worked the nightshifts so he'd be able to take care of her."
"…in Boston I studied with Max Stackhouse and one of the things that I learned…is this whole orientation towards ethics as a societal concern"
The spark that lit the flame: How did your journey as a Physical Therapist begin?
"And somebody said to me: 'well then what do you want to do?'… and I just blurted out, 'I want to be a physical therapist.' And somehow, I knew in that minute that that was right."
"If you're not connected to the profession as a collective, you're standing [alone]- you're just one tree standing out there and we know that trees withstand wind better in stance [together] than individually."
---